Nassau Shore Excursion: Rum and Food Walking Tour
Caribbean » Bahamas » New Providence » Nassau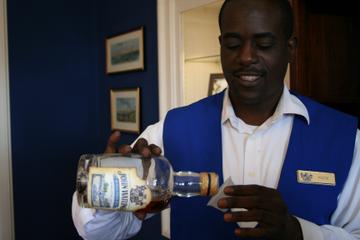 (5.0)
Duration: 2 hours 30 minutes
Departs: Nassau, Bahamas
Price from USD 69.88
Book Now
Spend your time in port in Nassau on a walking tour that will introduce you to the best of the city's rum and food scene. With a friendly, Nassau-loving guide, visit four downtown businesses, including a pirate-themed pub and an elegant chocolatier, to sample rum, rum cocktails and rum-infused sweets (are you sensing a pattern?), as well as other Bahamian favorites like conch fritters and a guava dessert. Your shore excursion ends at John Watling's Distillery to learn about the rum-making process. This tour is limited to 10 people, providing a small-group experience.
When your ship docks in Nassau, meet your friendly tour guide just a few blocks from the wharf and head to your first stop, Pirate's Pub & Grill on George Street. Channel your inner buccaneer as you throw back your first sample of rum, imagining the days — more than 300 years ago — when rowdy pirates of the Caribbean rambled down these streets, intoxicated on their 'demon water.'

Following your guide, walk through downtown Nassau to three more local businesses, where you can chat with staff as you enjoy rum cocktails, savory snacks and delectable, boozy treats. Bite into warm conch fritters — a Bahamian specialty — and satisfy your sweet tooth with rum-infused chocolate and a Bahamian dessert made from guava, a tropical fruit.

While you go off the beaten path with your guide, listen to madcap stories about the island's pirate and rum-running history. Walk by historical buildings, and hear how they once played a role in the profiteering business as storage space for liquor about to be transported across the ocean.

Fittingly, your shore excursion ends at John Watling's Distillery, located at the Buena Vista Estate. Learn about the rum-making process, from fermentation of sugar cane to aging in white-oak barrels, and hear about the mysteries surrounding 17th-century pirate John Watling, for whom the distillery is named.

Tastings include (subject to change):

6 rum tastings
2 cocktails
Bites of Bahamian conch and lobster fritters
Rum-infused white chocolate
Caramel truffle shot
Guava duff (a Bahamian dessert made with fruit wrapped in dough)
Worry-free Shore Excursion:
We will ensure your excursion ends with ample time for you to return to the Nassau port for your ship's departure. In the extremely unlikely event your ship has departed, we will arrange for transportation to the next port-of-call. If your ship is delayed and you are unable to attend this activity, your money will be refunded. See our terms and conditions for full details.
« All Activities