Nassau Shore Excursion: Shark Diving Adventure
Caribbean » Bahamas » New Providence » Nassau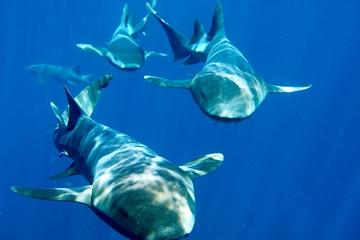 (5.0)
Duration: 5 hours
Departs: Nassau, Bahamas
Price from USD 182.99
Book Now
Book the shark diving shore excursion for a thrilling and adrenaline-filled adventure on your cruise to Nassau! Swim close to Caribbean Reef Sharks and watch as they are being fed by the professional guides. This exciting underwater encounter with the ocean's greatest predators will be the talk of your vacation so book now and experience one of Nassau's most adventurous shore excursions!
There are currently four sites where you can dive with the sharks. You'll dive either the combination of 'Shark Wall' and 'The Arena' or the combination of 'Shark Wall North' and 'The Runway'. At either location, you'll encounter a gathering of Caribbean Reef Sharks on a consistent basis.

Your first dive is a 'Free Swim' with the sharks on a magnificent wall. The sharks will follow you throughout the dive because you'll be close to the feeding site and they know that dinner time is soon. However, no bait is exposed on this dive. This keeps the sharks curious and creates a very natural encounter for divers - just as you would encounter a shark in the wild.

Your second dive is a shark-feeding dive. Unlike ordinary dives, you'll spend this dive kneeling on the ocean floor. Divers form a semi-circle in front of the professional shark feeder who'll place a bait box on the bottom. Your feeder utilizes the bait box and a pole spear to control the release of food that influences the shark's behavior. Watch exactly how the shark feeder keeps the sharks in a 'polite' feeding posture. The sharks will come very close but they are more interested in the bait than you!

Participant Requirements:
Must be at least 10 years of age
Must be a certified diver (must bring certification card at time of check-in)
Must have good physical health
Divers who have not logged a dive within the last 3 years will be required to complete a refresher program prior to joining any scheduled dives. Each participant is required to wear a full wetsuit or skin (long sleeves and long legs)
Worry-free Shore Excursion:
We will ensure your timely return to Nassau for this activity. In the rare event your ship has departed, we will arrange for transportation to the next port-of-call. See our terms and conditions for full details.
« All Activities