Nassau Snorkel Bahamas Adventure
Caribbean » Bahamas » New Providence » Nassau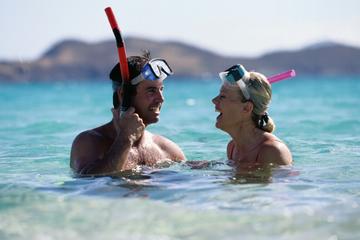 (5.0)
Duration: 5 hours
Departs: Nassau, Bahamas
Price from USD 80.99
Book Now
Ever wanted to snorkel with sharks? On this adventure you'll swim with schools of colorful fish in the shallows of Nassau's famous reefs. Then, if your fellow passengers have the nerve, it's off to snorkel with one of the most magnificent and misunderstood creatures of the sea - sharks!
Just minutes after leaving Nassau you'll be snorkeling through an undersea extravaganza of living coral and tropical marine life. Your captain will choose two of the clearest and calmest locations on the day to begin your snorkeling adventure.

Then, if the weather permits, you'll go for a snorkel with your guide as sharks swim calmly below you. Or, if you prefer, you can watch the sharks being fed from the boat. Sharks are one of the most fascinating marine animals you will ever see, and on this cruise you'll see them up close and personal in perfect safety.

Please note that pickup times commence prior to tour departure.

Participant requirements:
Children must be accompanied by a parent or guardian
Children under the age of four not permitted
Participants must have good physical health
Click on "View Additional Info" below for approximate pickup schedule.
« All Activities