Island Snorkel Cruise from Freeport with Lunch
Caribbean » Bahamas » Grand Bahama » Freeport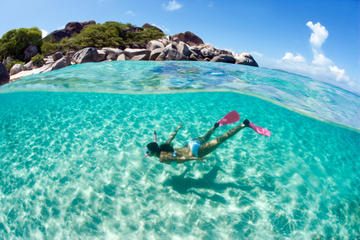 (5.0)
Duration: 4 hours
Departs: Freeport, Bahamas
Price from USD 105.35
Book Now
Enjoy an afternoon of fun in the sun on this 4-hour sailing and snorkel tour in the Bahamas. Cruise by catamaran from Freeport to a remote island, where you can lounge on the beach and snorkel in clear Caribbean waters amid coral and tropical fish. A Bahamian-style buffet lunch on the beach includes beverages and unlimited Bahama Mama cocktails!
After your guide picks you up from your Freeport hotel, step aboard the Sunshine, a 45-foot (14-meter) catamaran, for your sailing tour to a remote island. From the spacious boat, enjoy scenic views of the tropical Caribbean shores where the Lucayan Indians first encountered Columbus.

Head out to sea and stop to dip into crystal-clear waters boasting 200-foot (61-meter) visibility and swim among an array of brightly colored fish. Your experienced crew members will provide snorkeling instructions and ensure your safety in the water.

When you hop back aboard the boat and reach the deserted island, enjoy two lazy hours sprawling under the tropical sun or snorkeling in shallow water off shore. The region is teeming with tropical fish and exotic creatures that make the coral formations their homes. Keep an eye out for dolphins and sea turtles as you swim, or simply relax on the white-sand beach.

Note that the crew will determine the specific snorkel and beach site for a particular day, according to weather conditions and passenger requests, to allow for the most ideal locale.

Enjoy an authentic Bahamian-style buffet including grilled chicken, corn and bread along with unlimited lemonade and Bahama Mamas – a blended drink made with orange juice, pineapple juice and coconut rum. Yum!

After lunch, sail back to Freeport, where you'll be dropped off at your hotel.
« All Activities